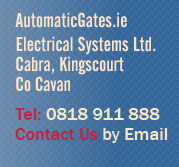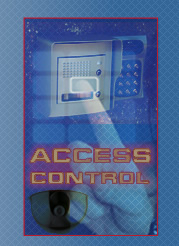 Automatic Gate Systems

We are main distributors for BENINCA Gate automation equipment in Ireland. The BENINCA name is synonimus with quality and reliability.
We offer a choice of both Electro-mechanical and Hydraulic systems.
Customers have a choice of :
Underground gate Systems

We can offer three choices of Underground operators. Our Domestic version is suitable for leaves up to 4mtrs and weighing up to 500kG. The motors are available in 240Vac.
The Heavy Duty version will operate a gate up to 4mtrs (per leaf) or 700kg and is rated for intensive use. In our opinion and from our 20 years of experience ther is no motor on the market which can match the DU.350N for reliability and performance.
The Hydraulic system is also rated for intensive use and can happily operate a gate of 800 kg. (per leaf).
All of our systems include safety features such as safety beams, torque control and in the case of the sliding gate systems, a safety edge circuit can be fitted . In the event of a power failure a simple release key is used to disengage the automation system and the gates can be pushed open or closed manually.
The system can be controlled by Radio transmitter (Zapper), Push Button, Digital Keycode, Intercom, Audio or Video Inductive loop or GSM using your mobile phone.Our systems are so versatile the possibilities are endless.
( DU.IT14N )
( DU.350N )
Overground Gate Systems
( DU.30 )
There are both Electro-mechanical and Hydraulic systems available.
We have three operators in this range:
Linear Ram type, which can operate a leaf of max 5mtrs. The Ram system is suitable for post mounted gates.


Articulated Arm, these operators are suitable for leaves of max 3mtrs.


Hydraulic Ram, suitable for leaves up to 6mtrs. May require additional locking mechanism which we can supply.
( Premier 45e )
( BOB 30/50 )
Sliding Gate Systems
BULL8 Sliding Gate Operator
We have numerous sliding gate operators available.
These range from our BULL8 operator for domestic use to our BULL.20T for Heavy Industrial use ..
Each system is comprised of 1 No. Operator / Control panel, 2 Sets of safety beams and drive rack.

The industrial operators come in both single and three phase. For further information call us on 0818 911 888 or 087 2677785
Our BULL 20T Operator